Over the course of construction there will be major activities that will impact the region. As those activities are scheduled, we will keep the community updated.
Frontage Road Activities
Crews have begun utility relocations, sidewalk reconstruction and related business driveway reconstructions along the corridor. All existing sidewalks along the frontage roads will be updated to be ADA compliant and crews will be adding sidewalks where none exist between SH 45/RM 620 and Loop 360. Currently, there is a long-term closure along the right lane of the southbound MoPac frontage road between US 183 and Steck Ave. that will last approximately nine months and is needed to perform utility relocations, sidewalk and driveway construction. The utility relocations are being implemented first. For more information about our plan to improve the bike and pedestrian facilities along the project corridor go here.
U-Turn Closure at RM 620
We have closed the U.S. 183 U-turn just south of RM 620, for the U.S. 183 northbound to southbound traffic movement. Drivers traveling northbound and needing to turnaround and travel southbound on U.S. 183 or the frontage road, will be able to turn left at the traffic light at the RM 620 intersection, instead of using the U-turn. The closure of the U-turn will be continuous, 24 hours a day, seven days a week and will last approximately one year. The purpose of the closure is to allow construction vehicles and crews access to the center median between the northbound and southbound lanes of U.S. 183 to minimize interference with traffic on the mainlanes, to facilitate the construction of Phase 1 for the project. This access increases safety and reduces the potential for traffic delays from construction vehicle traffic entering and exiting the roadway. Entrance to the U-turn will be signed as "Construction Traffic Only" with additional signage advising drivers to turn left at the intersection. *Dates are subject to change based on weather and other circumstances.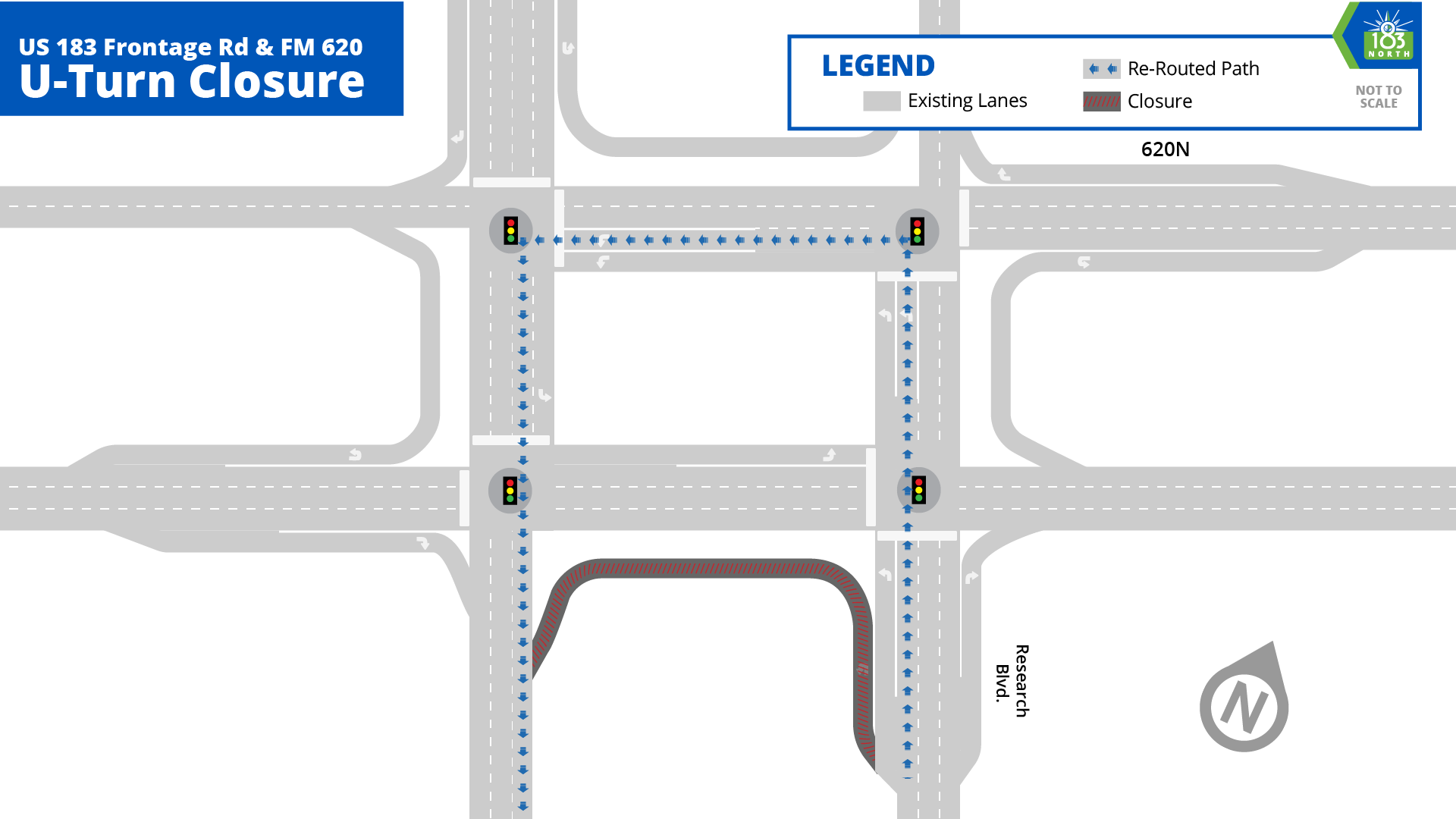 Concrete Batch Plant Operations
The Mobility Authority has concluded initial outreach to businesses near Pecan Park Boulevard and FM 620 regarding the installation and startup of a temporary concrete batch plant. Concrete from the plant will be used to pave new lanes for the 183 North Mobility Project. Once in production, the plant will run primarily at night, as long as road paving is in progress on 183 North. The project's outreach team has met with area businesses, making them aware of potential sound, dust and light issues at night and how the construction team has and will continue to mitigate those impacts.
In Progress - Miscellaneous Work
Crews have completed or are working to complete several milestones already, including, but not limited to:
Interior widening – currently complete from Anderson Mill to Balcones Woods
Outside widening - Portions of outside widening along SB MoPac have also been completed between US 183 and FM-2222
Outside widening caps and columns – this has been completed along both US 183 northbound and southbound frontage roads
Upcoming Work
For the rest of 2023 and into early 2024, crews are targeting several major activities, including, but not limited to:
Construction of up to 15 retaining walls to facilitate outside widening of US 183 general purpose lanes
Interior widening of bridge decks for Pecan Park, Lake Creek, Anderson Mill, McNeil/Pond Springs, Oak Knoll, Duval, and Balcones Woods, which will be used temporarily to allow construction of an outside lane and ultimately as managed toll lanes
Various drainage improvements to the frontage roads between RM-620 and Loop 360 to allow for construction of the outside widening along US 183 as well as improved drainage along frontage roads
We are also aiming to have a major traffic switch on US 183 both northbound and southbound between Lake Creek and Balcones Woods by the end of 2023/ early 2024.
Stay informed by signing up for our Travel Alerts through the link below and following us on Twitter @183North.
Quick Links